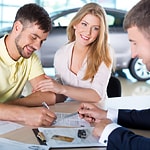 There are a lot of details involved when buying a car. One aspect we're often asked about here at Clason Buick GMC is financing. Understanding all the jargon and terminology used in loan contracts can be confusing. Here's a list of common auto-finance terms to make things clearer.
Lenders will use your credit score to decide whether to give you a loan. Your score is determined by factors like your total debt, payment history, and the age of your accounts. If you don't have a credit history or have experienced credit issues in the past, you may be asked to have a co-signer. This is a person who will agree to pay the loan if you should default or be unable.
The interest rate is something you'll want to be aware of. This is the amount you'll pay in order to borrow money. It's written as a percentage. The annual percentage rate, or APR, includes interest as well as all other yearly fees.