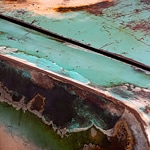 Driving in La Crosse, WI during the winter season can present a host of obstacles to car maintenance. One of the most notorious issues is salt corrosion, which can damage your car's appearance and long-term performance. Here at Clason Buick GMC, we want to share some helpful ways to reduce the impact that salt has on your car.
In order to protect yourself from salt damage, you have to minimize the amount of exposure your car has to it. The first line of defense is by taking several steps to properly clean the exterior of your car. This includes:
Car waxing
Tire cleaning
DIY car washing
The last of these is important due to commercial car washes' affinity toward "repurposed" water. Also, DIY washing also allows you to clean hard-to-reach areas that commercial washes might miss. In addition, you want to be mindful of how you drive during the winter season. If you avoid driving in deep snow, through puddles, or at the beginning and end of a snowstorm, you greatly reduce exposing your car to large concentrations of the substance.